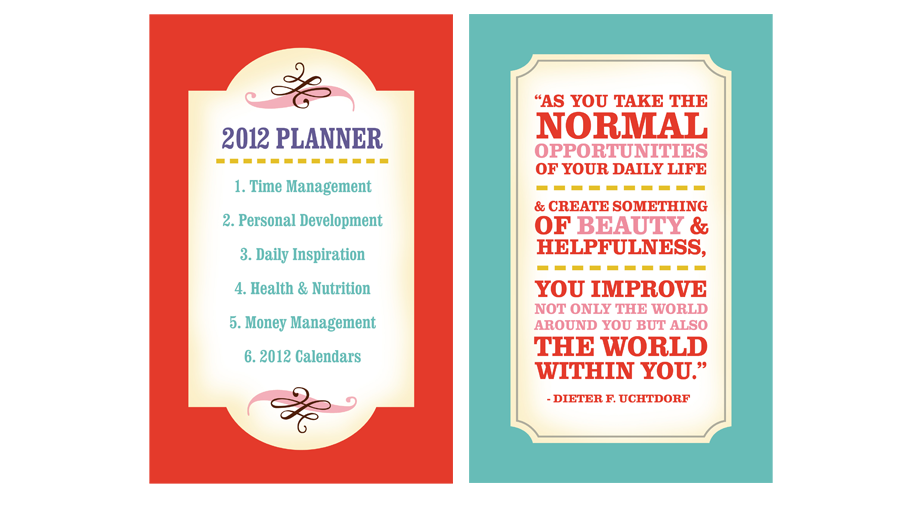 It all started last year when my sweet and VERY talented friend, Crystal Wilkerson, created an awesome and super cute 2011 planner. SO many people loved it – including ME! I'm happy to report that Crystal has just recently come out with her 2012 planner and it's even MORE awesome. Seriously. I didn't even know that was possible! ;)
Anyone who knows me knows that I am an organizational freak. Yep, I'm happy to admit it, and this handy little planner rocks in so many ways. I love all of the different sections it's broken down into and it's so pretty and the cool thing is that the files are digital so you can print it at your convenience and even print it out multiple times – what a great gift this would be to give a friend or family member! I think we all know someone who could use a little planner like this!
Crystal has a great tutorial HERE that shows you how easy it all is and how to print it out, etc. I LOVE it and I know you will, too!
Another cool thing is that Crystal is offering all One Happy Mama readers a 30% off coupon code. Just enter the code GIVEME30 when you check out. How cool is that?
Also, as a BONUS when you purchase Crystal's planner – you will receive a link to download Crystal's "30 Day Gratitude Challenge" for free! The download is 30 designed quotes and 30 journaling prompts. You can add them to your planner, print them out and frame them and give them as gifts, use them in your scrapbooking, etc. SO many things you can do and a portion of every purchase of the planner goes to help the sweet Norton family. You can read about their family and purchase the planner by clicking HERE.
Now's the time to get organized and get a really beautiful, super functional planner to get your new year off to a great start! Just had to share! ;) Hope you are having a blessed day! Oh, and check out the post a couple below this one. I've got a cute giveaway going on that you HAVE to see! ;) Hugs!