"Let Him have all of your worries and cares, for He is always thinking about and watching everything that concerns you." 1 Peter 5:7
That is one of my favorite Bible scriptures. I came across it one day when I was reading the Bible. It stood out to me and brought me comfort. And then shortly after that, it showed up on a business card of a store that I was shopping at and I just knew it was God's way of telling me to hold tight to those words because they would comfort me again. And they have.
After Caylin's diagnosis one of the first things I thought was that scripture. It DID comfort me. Sure, I was feeling so many emotions during that time, but I was also feeling comfort and peace, which was so nice.
So when my sweet (and VERY talented) friend Lori, of Fresh Picked Whimsy, offered to create a special custom piece for me to auction off to help raise money for Caylin's Cure I just knew what I wanted to have on it.
Needless to say when I received an email from Lori with this print in it I cried.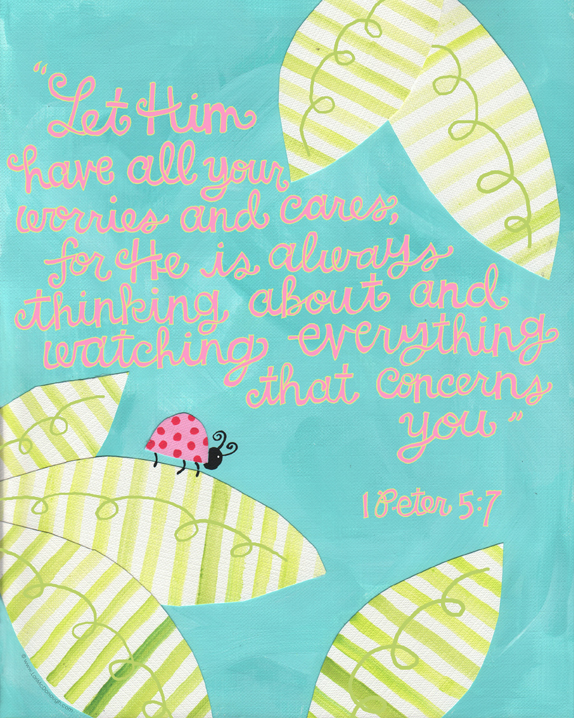 I just think it's beautiful – from the scripture to colors to the little lady bug (which is Caylin's favorite)! It's perfect in every way. So for this last and final auction to help raise money for Caylin's Cure, Lori has generously donated TWO of these prints framed in a super sweet frame. Here are some photos of the framed print: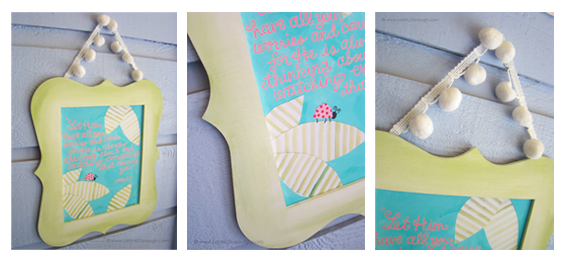 Here's the description about the frame:
The frame is made of super thin, light weight plywood and is hand painted by me to match the print.  This frame is a white washed spring green.  The print is permanently mounted to the back of the frame and there is no glass. The frame cheerfully hangs by a string of large white ball fringe.
This print would be great as a gift for a friend or to give to a daughter or just keep for yourself. It's a beautiful reminder AND helps a great cause, so I hope you consider bidding on it. Like I said, this is going to be the last auction fundraiser to help raise money for Caylin's Cure.
The bidding will start at $30. 
To bid on the framed print – leave me a comment on

this

post with your name, email and bid and the highest two bidders will win a beautiful framed print by artist, Lori McDonough.
The auction will end this Sunday, September 4th.
Let me know if you have any questions. We're about $1500 away from raising $5000 for Caylin's Cure and it would be awesome if we could reach that in the next few weeks, so spread the word.
Thanks so much for your support! Big hugs! Have a beautiful day!