Happy Project Life® Tuesday!
Hope your week is going great! Here are my page shares for the day!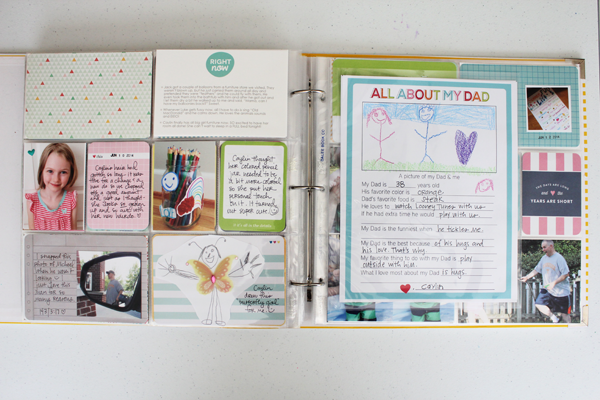 Here's a shot of both pages. This week I used DESIGN A page protectors, a regular 8.5×11 page protector and also a DESIGN H page protector, which you'll see more in a bit. ;)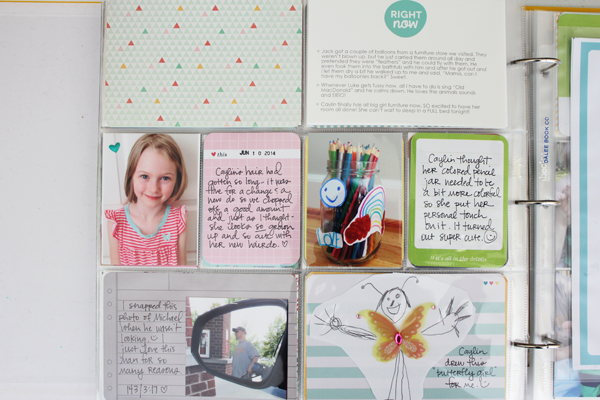 Here's the left side. On this page I used cards from BLUSH and Kiwi and also a 4×6 card from a WE R MEMORY KEEPERS. I've of course included my Right Now Challenge card, too.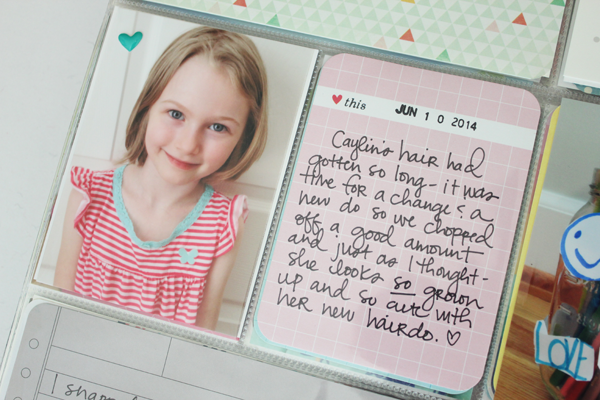 Close up of some of the page. I just love Caylin's cute new do! Eeek! The blue epoxy heart is from the July OHDEERME kit from Freckled Fawn. Also, used the Project Life® date stamp.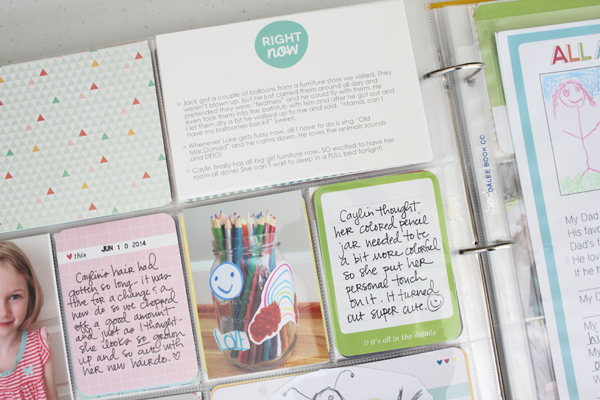 Here's another shot. :)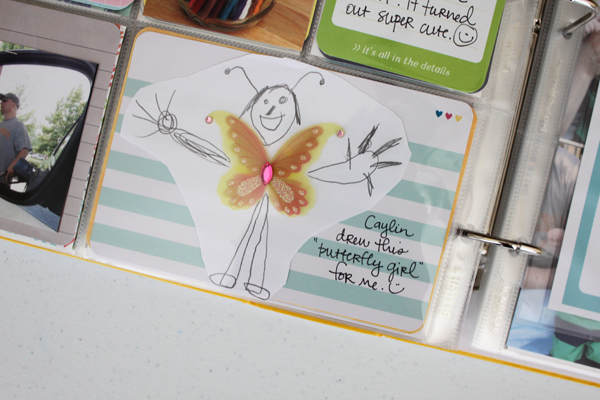 As you know, I love to include things that my children make for me and Caylin is ALWAYS making cute little drawings and asking me to put them in my album and this is another one of them. ;) She used a butterfly sticker and made a butterfly girl out of it. She left it on my desk and it was just too cute not to include. ;)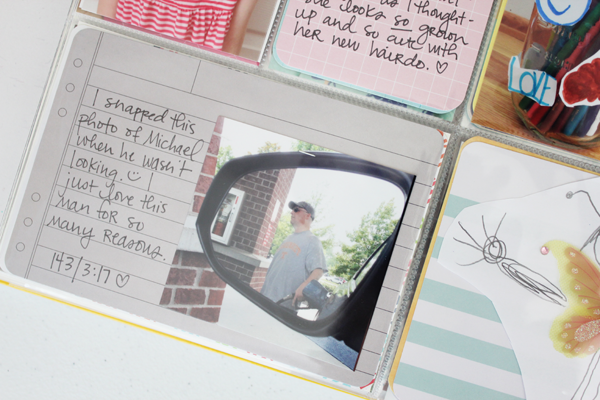 Love getting shots of my hubby here and there and including them. This is just a random shot I took around Father's Day when he was pumping gas for me. I just love that man. ;)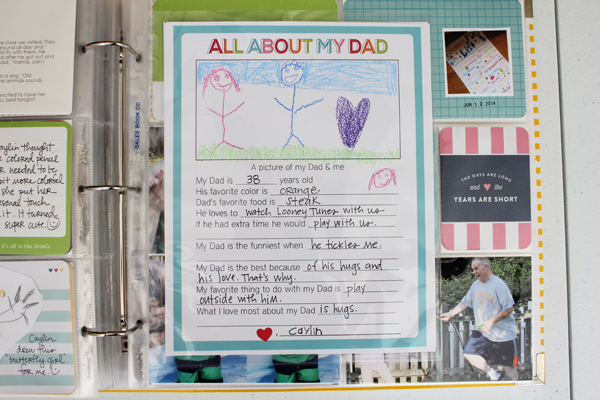 Since this week was the week of Father's Day, I printed out these little cute "ALL ABOUT MY DAD" questionnaires that I found on Pinterest. I asked Caylin and Jack the questions and filled it in for them and then let they draw the picture. I slipped them into the page protector and put it in the album. Love looking back on sweet questionnaires like this. :) Easy to do!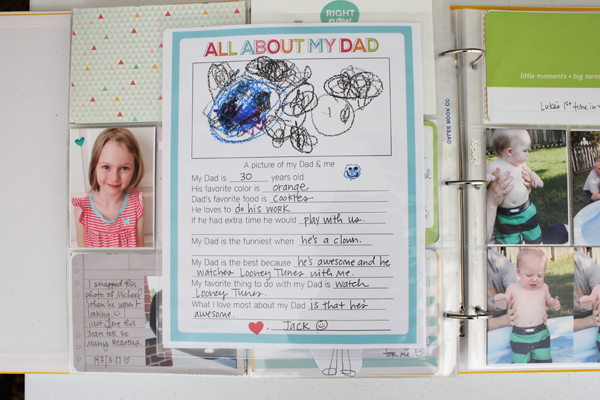 Here's the back side with Jack's sheet. :)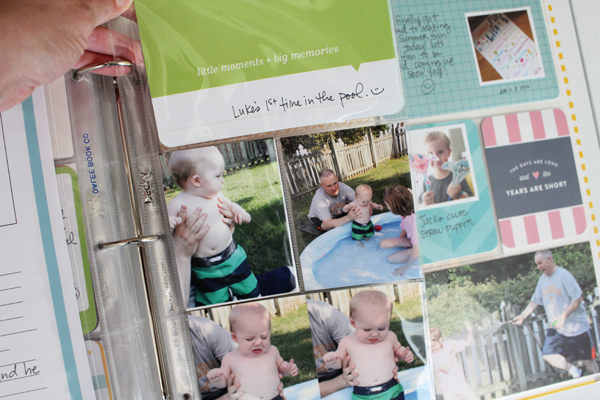 Also included this week was the DESIGN H page protector. I had a good amount of photos from Luke's first time in the pool. As you can see he was NOT a fan of the cold pool water, but I just love how sweet and simple this insert turned out. This is the front.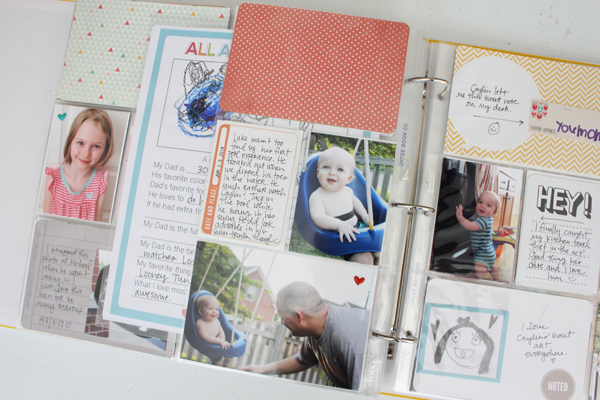 Here's the back of the insert. :) That bottom photo is a favorite of mine. Sigh. Another epoxy heart from Freckled Fawn.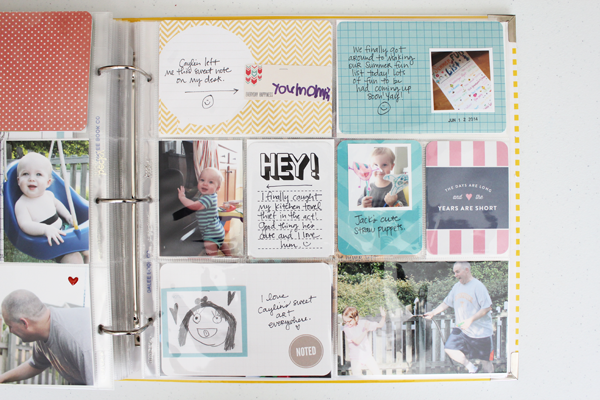 Here's the right side.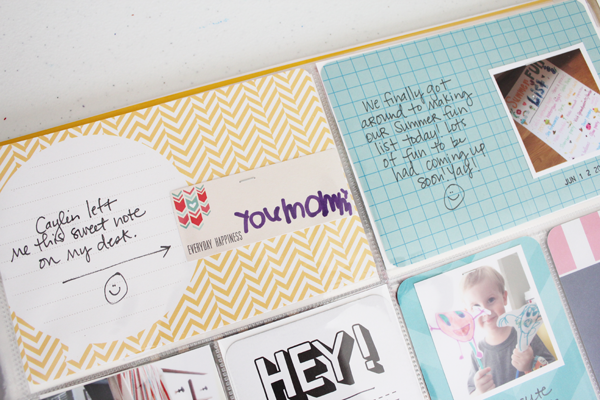 I had this sweet little scrapbook card from Chic Tags and it said, EVERYDAY HAPPINESS on it and Caylin wrote after that "You Mommy." Totally melted my heart and so I just simply stapled it onto this 4×6 card.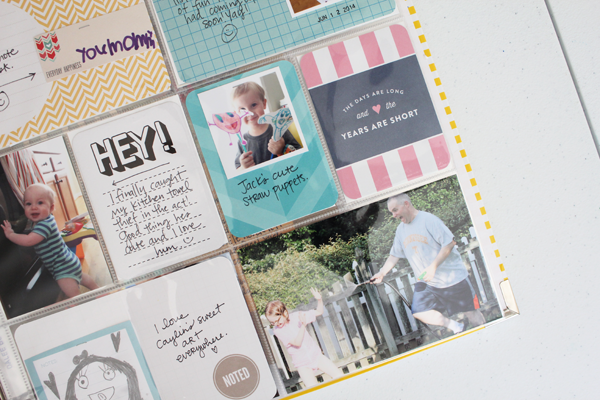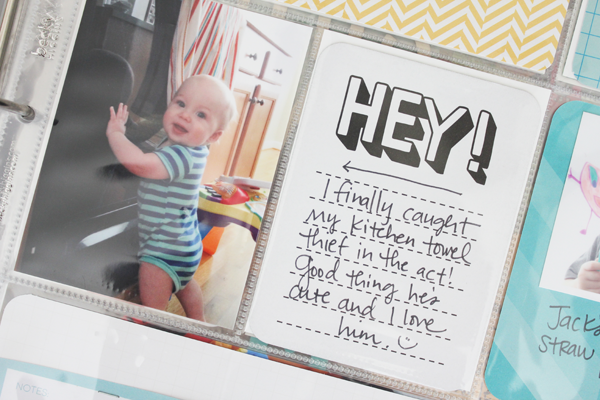 This 3×4 card is from the Plus One mini kit. Love that kit and love that I caught Luke in the act finally! Ha!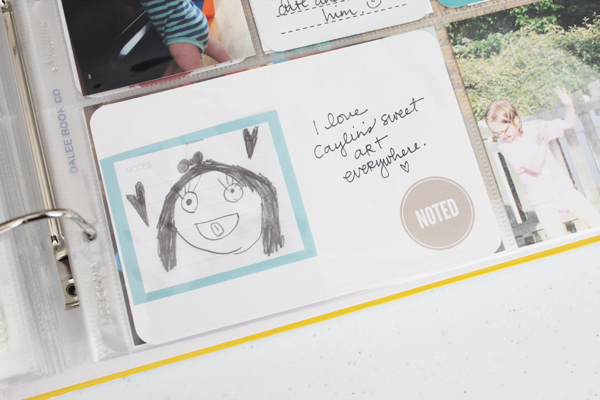 Another sweet drawing I included in this week's spread. I can't get enough of her artwork and I just know I will love to look back on these one day! So will she!
Well, that'll do it for today, friends! I hope you have a beautiful, blessed day! Thanks for stopping by! Oh, and if you don't follow me on Instagram – you need to! I'm part of a great giveaway that's going on until the end of the week so find me on IG and follow me and check out that post! My handle is imonehappymama!
Make it a good one! XOXO!